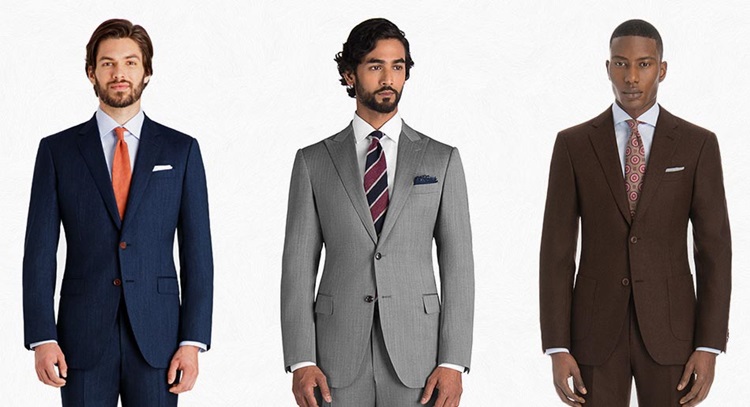 Suits color guide for men
Suits are a wardrobe essential for men and are the most versatile outfit. There is a suit for every occasion if paired well with the right set of shirt and tie. Colour of the suit is an important element while dressing up. Wearing the same coloured suit every day can be boring. Playing in different colours can change the whole look of your suit. Not sure of what colours to mix for the best look? This suits color guide will help you wear the best colour combination.
Grey and black: a classic combination; grey suit jacket with black pants and a light blue shirt goes well for formal and business looks.
Gray and grey: grey upper body is a highlight. Paired up with a lighter grey tone of the pants and light coloured shirt makes a good combination.
Gray and ivory white: for a refreshing look, wear beige pants below a light grey suit jacket. Highlighting the lower body with lighter shades has been in style always.
Gray and black: grey and black will never fail to look good on you. Gray suit jacket, black pants and a light blue shirt are just right for every occasion.
Navy and Gray: for a not so formal look, navy suit jacket with grey pants is a popular combination among men.
Navy and white: navy has its own charm. A navy suit jacket and white pants are an elegant combination to see.
Navy and black: navy blue suit jacket and black pants can never fail as a combination for formal occasions.
Light blue and white: white fits in every combination. For a holiday look, light blue breezy suit jacket and white pants are a favourite choice.
Light blue and khaki: wearing khaki is a lot of play with the combinations. A light blue blazer and khaki pants make a good combination.
White/ivory and black: white upper body, black trousers make the perfect casual look.
White and royal blue: moving away from black, royal blue is the primary choice. Royal blue suit blazer calls for a younger look than black!
Black and khaki: black blazer and khaki pants go well for a formal look. Pairing up black with khaki reduces the possibilities of mismatch.
Black and royal blue: a never failing look; black suit jacket and royal blue pants for a handsome man.
Khaki and grey: a subtle combination, a little unusual but pleasant to the eyes. Khaki suit jacket and grey pants call for some calm and elegant feel.
Khaki and white: a never-failing combination again. Khaki blazer and white trousers can give you that summer holiday feels you desire for.
Khaki and olive: an offbeat combination, both colours of the same family can make a good match.
Brown and white: embrace a more mature look with a brown suit jacket and contrasting white trouser.
Brown and khaki: members of the same colour family, a brown suit coat and khaki trousers give a sense of depth, calls for a mature look.
These are a lot of options to choose from for the kind of look that you want. A suit colour guide can give you a lot of ideas, but perfecting the look with the right choice of shirt dress and ties comes with experience. Be bold, experiment, wear your style with grace!